Dean Valley Regeneration
The Dean Valley Regeneration project is a not-for-profit restoration initiative, made up of volunteers from the community seeking to breathe new life into one of Scotland's most important and beautiful historic landscapes – the Dean Valley in Edinburgh's New Town.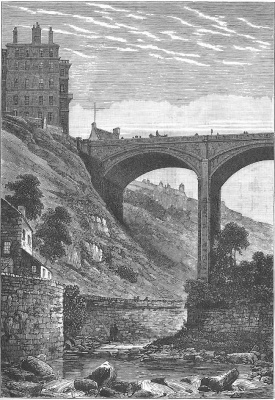 NOTICE: The charity was wound up on 31st May 2020. Read our closing statement here. This website continues to be maintained by the Dean Village Association.
The Dean Valley forms the backdrop to Edinburgh's Georgian city, built from 1767, and represents one of the most significant historical and architectural designed landscape gardens in Scotland.  Today the area offers an oasis of picturesque beauty and calm to local residents and tourists alike, a hidden gem in the heart of the city.
Over the years the linear park has been neglected and is now in urgent need of renovation and care, in order to preserve it for future generations. Renovation offers a significant opportunity to ensure that this unique location, set within the Edinburgh World Heritage Site, can be enjoyed for many years to come.
The theme of our project is an historic landscape renovation, to include the walkway and its built structures of walls, bridges, railings and embankments, creating a community focus, both to improve the shared amenity of the area as well as promoting its sustainability and self-sufficiency for current and future generations.
If would like to learn more, please visit the Dean Valley conservation statement. Copies are also lodged at Stockbridge Public Library and the National Library for Scotland.
You can also download historic maps of Dean Valley,  figures (maps) of the conservation area and the Dean Valley Biodiversity Scoping Document, a document for the Dean Valley that was commissioned by us with funding from the City Neighbourhood partnership to review nature conservation issues and linkages to the Edinburgh Local Biodiversity Action Plan.
Further Feasibility Studies,(phase 1, phase 2) and an Expression of Interest for National Lottery Heritage Funding were also produced.