Sewage weed in the Dean Valley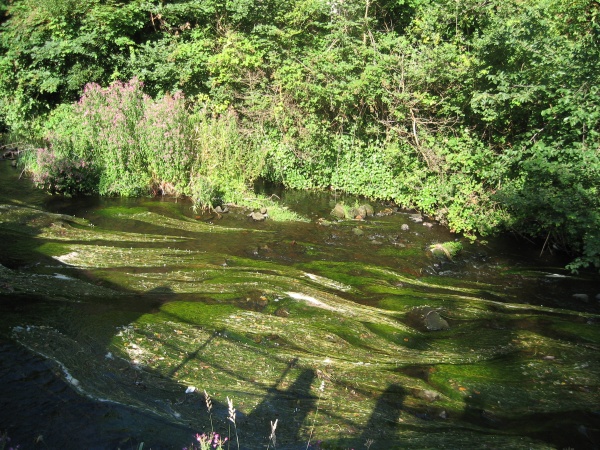 Sewage weed or filamentous algae Cladophora and Vaucheria, seen here in the Dean Valley, indicates high nitrogen levels in the water.
Cycling down the Water of Leith walkway from Slateford today, 29th September, the river was low and there was an absence of sewage smell recently detected after extreme rain conditions and high river flow. Questions were recently asked at the CEC Council meeting as reported in WOLCT news letter. However we now know that sewage will overflow into the river when there are huge downpours of rain and the algae could well be an indicator of this.
When we asked SEPA in September 2015 whether sewage was polluting the river because of algae presence this was part of their reply after they had tested the water:
There were no signs of sewage fungus or recent sewage discharge and invertebrate sampling showed there a good range of families including the pollution sensitive stoneflies and caddisflies. Two bullheads were also found in the sample.

It's our opinion that the thick macrophyte patches are a consequence of a general nutrient enrichment and recent low flows rather than an indication of a pollution event.
We need to keep up pressure on SEPA and CEC to make sure this issue is dealt with.