Georgian Gardens revealed in new book
This year marks the 250th anniversary of the founding of Edinburgh's Georgian New Town, and the publication of John Byrom's much-awaited manual on the gardens that are so integral to this UNESCO World Heritage Site.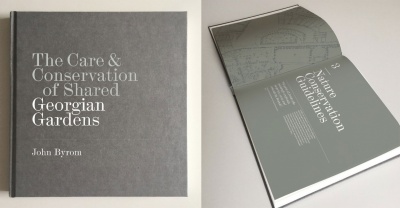 The book is the result of decades of research, providing detailed guidance on the long term management and maintenance of Edinburgh's 47 circus, square, crescent and informal grid-edge gardens that has remained previously unpublished.
These gardens are very special, specifically designed to add colour and vibrancy to the city's urban landscape – lush green contrasts to the classical sandstone architecture. They not only contribute aesthetically to Edinburgh's 'outstanding universal value', they are also communal spaces, looked after and enjoyed by the residents of the surrounding buildings.
It is an essential item for garden management committees, but the book has a wider purpose to inform an interested public and academic readership beyond Edinburgh. John has been providing advice and support on garden landscapes for many years, and with the publication of this book, his research and advice is available in perpetuity. In fact, the need for a publication of this type to be made publicly available was first identified over 30 years ago.
To support the project and publication, and to find out more, see https://www.crowdfunder.co.uk/the-care-and-conservation-of-georgian-gardens