The Village of Stockbridge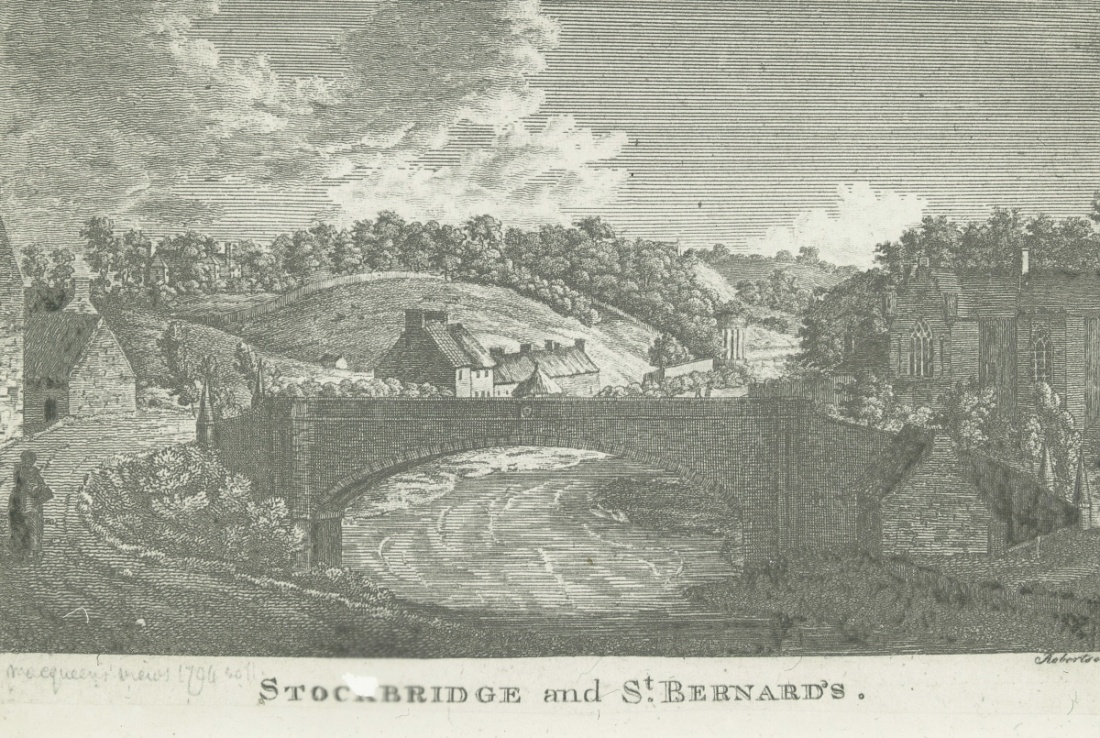 The distinctive village of Stockbridge can be said to extend from Saxe-Coburg Place in the north to St Bernard's Well in the south, and from St Stephen's Church in the east to the Grange Cricket Pavilion in the west.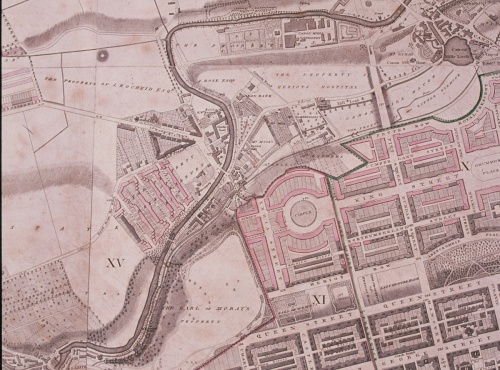 On this map you can see where this area is located. The blue pins denote the four above-mentioned locations whilst the orange pins show other significant locations.  
The Stock Bridge itself, originally made of wood, was replaced in stone in 1786, widened and strengthened in 1830, and rebuilt in its present form in 1900. A little further upstream, we find the lovely St Bernard's Bridge, built in 1824, and a little further still is the beautiful St Bernard's Well, built in 1789, in the form of a classical temple, containing a statue of Hygeia, the Greek and Roman goddess of health.  The mineral spring below is no longer connected, but the pump room is open regularly during the summer.
The footpath to the well follows the course of the mill lade which powered the mills of Stockbridge, Silvermills and Canonmills.  Known as "the Great Lade", it ran from the weir in the Dean Village for almost two miles before returning to the river at Powderhall.  Little evidence of it survives today, but look for the arch showing where it passed under the road south of St Bernard's Bridge.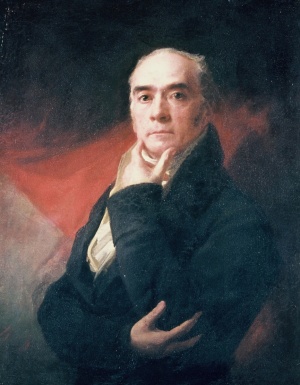 Scotland's most celebrated portrait painter, Henry Raeburn, was born in a cottage beside the lade, but lived later at Deanhaugh House and St Bernard's House (roughly where Leslie Place and Carlton Street now stand).  Delightful Ann Street, named after his wife, was built along the west boundary of his policies of St Bernard's, and he was knighted by King George IV in 1822. His paintings are found in art galleries all over the world.
The mill lade passed under the main road at Baker's Place (so named because of the flour mill which stood there until it was destroyed by fire in 1901), and then under Stockbridge Market, which operated from 1826 to 1906. Its handsome entrances from St Stephen Street and Hamilton Place can still be seen, and the tradition continues today in the popular Stockbridge Sunday Market.
The splendid Grange Cricket Pavilion can be seen from Portgower Place, and on the other side of the road lies the Edinburgh Academical playing field, where the first international rugby football game was played in 1871, between England and Scotland.